See What's Been Cooking In the Kitchen
Here at Glow Recipe, we're dedicated to bringing you fun, accessible and clean skincare inspired by our favorite fruits and vegetables. Today, we're thrilled to announce that along with its very own website, Sweet Chef is launching two new products: the Superfood + Vitamins Moisture Boost and the Ginger Kombucha + Vitamin D Chill Mist!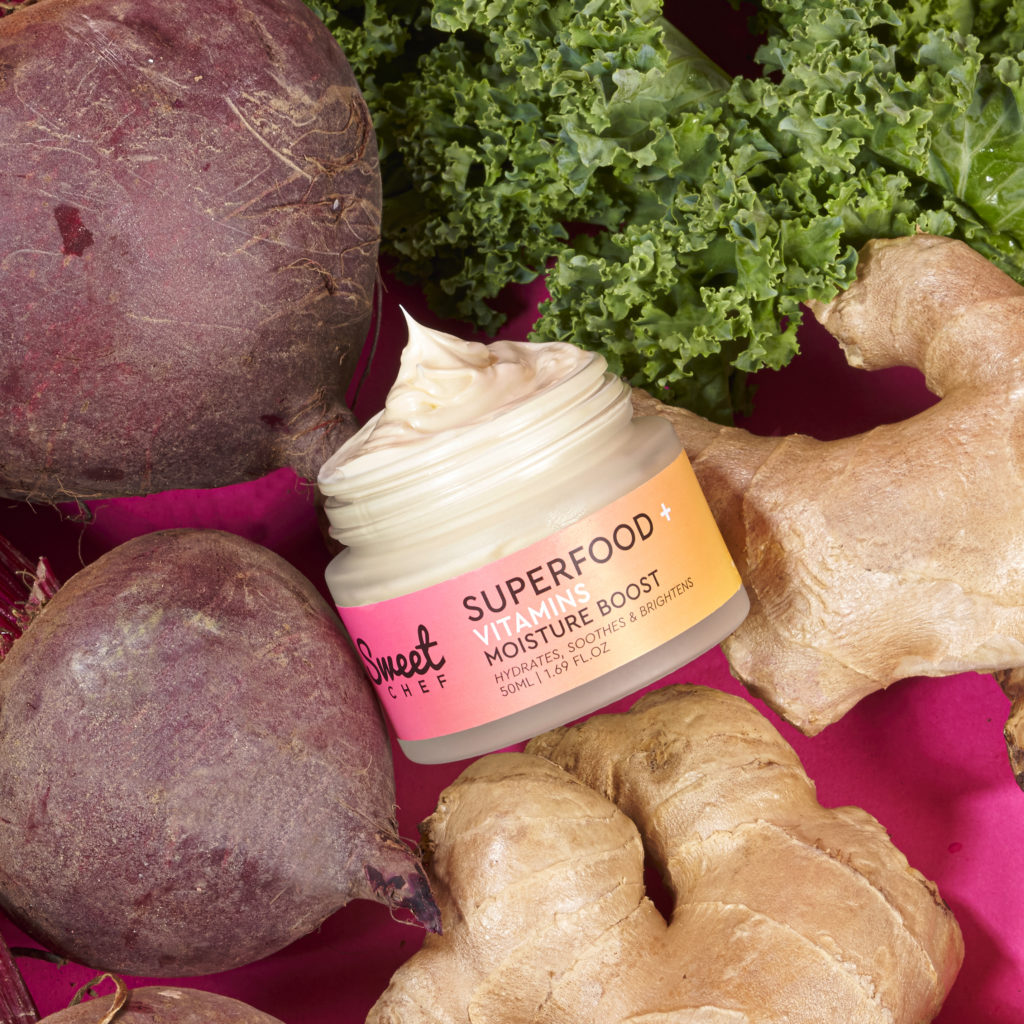 Meet Superfood + Vitamins Moisture Boost
Both of these new additions to the Sweet Chef line mix perfectly with our current family of products, but our moisturizer was specifically designed to work with each and every one of our serums and to cater to all kinds of skincare needs. Whether you're mixing it with your fave oil, cocktailing it with a serum, or using it solo to nourish, the Superfood + Vitamins Moisture Boost is an important ingredient in the recipe for happy, healthy skin. Moisture Boost's whipped texture was made to mix and layer with serums and mists. It sinks right into your skin without feeling heavy. Mix a dollop on the back of your hand with a few drops of serum, or apply on top of your other products. If you're feeling dry, try mixing it with a beauty oil for extra nourishment. We also love how it smooths and preps skin for makeup!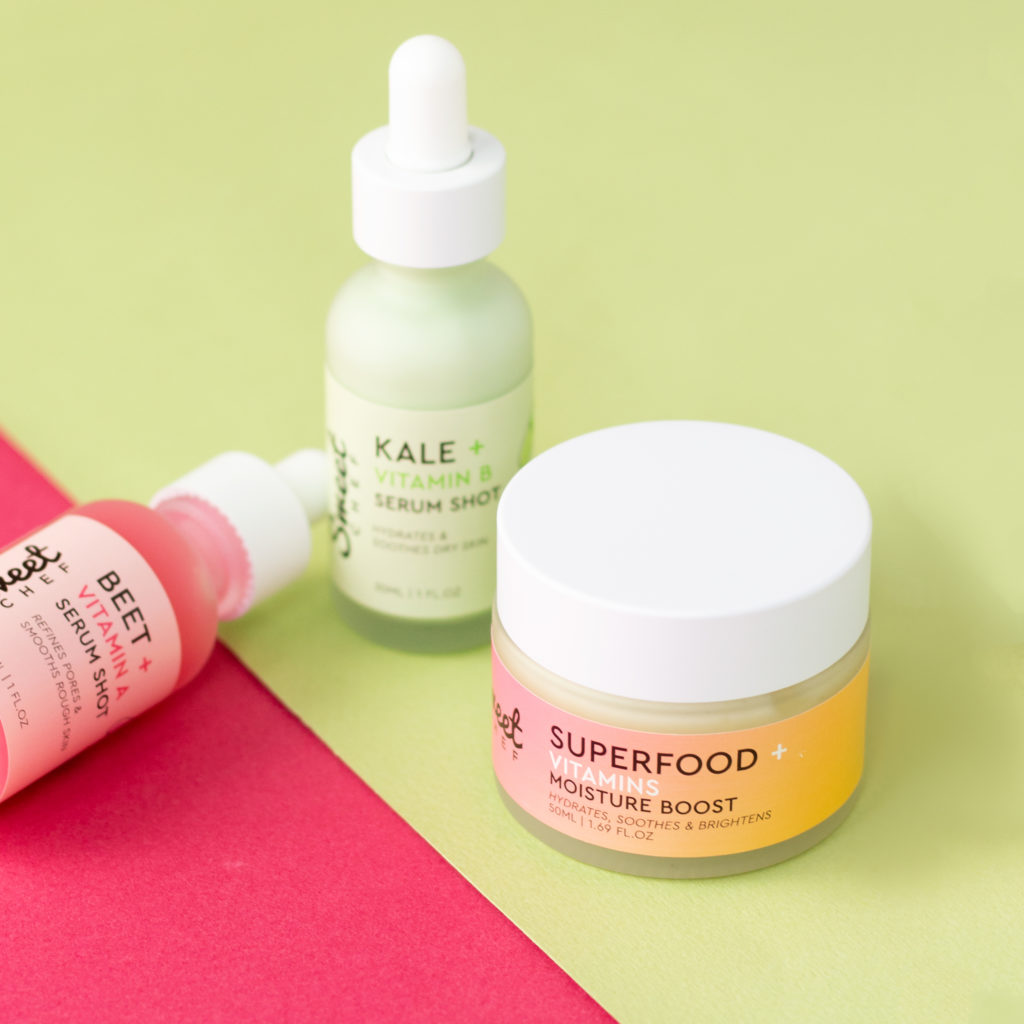 As it seamlessly melts into skin, this deliciously whipped moisturizer hydrates, soothes, and brightens with an uber-powerful blend of superfoods you may recognize in the rest of our line. In addition to the veggies you know and love, Moisture Boost also has the added skin-loving benefits of:

- Reishi mushroom, which harnesses skin-soothing properties and helps to calm redness
- Spirulina, an antioxidant packed with chlorophyll to help retain moisture  
- Chia seed, an anti-aging powerhouse that helps to smooth fine lines and wrinkles
- Ginseng, which helps to brighten and moisturize the skin
- Red algae, a marine ingredient that helps fight free-radical damage 
Meet Ginger Kombucha + Vitamin D Chill Mist
Whether you're prepping your skin in the A.M. or need a quick refresh in the afternoon, our ultra-hydrating, de-stressing, and cooling Ginger Kombucha + Vitamin D Chill Mist is here for you. We formulated our Chill Mist with ginger, which, as we already know, helps to naturally brighten and even out skin tone. The invigorating blend is paired with probiotic-rich ginger kombucha to soothe skin while helping support a healthy skin barrier and improving texture. Anti-inflammatory Vitamin D helps prevent signs of aging that are caused by environmental aggressors like pollution and UV rays. Mists are a staple in every K-Beauty routine, and we formulated ours to work for all different skin conditions, too as. Not only does it distribute a cooling mist, but it's a super flexible and fool-proof product that can be worked into your routine in countless ways.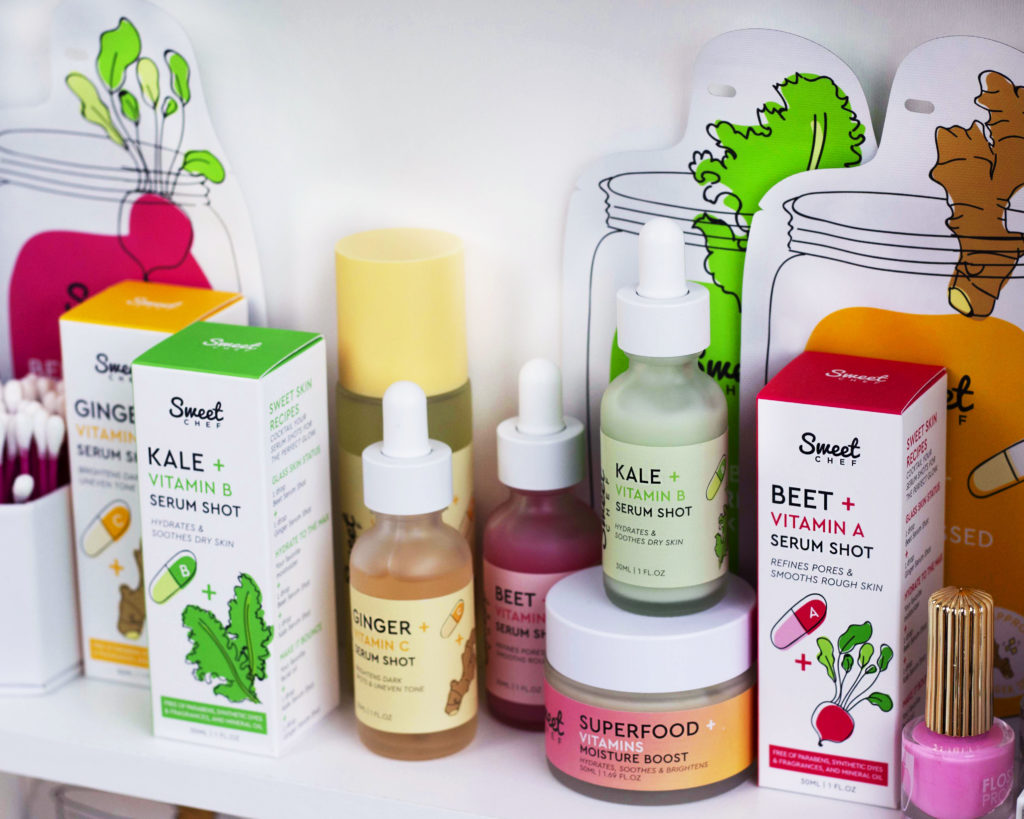 Create Your Own Skincare Recipe
Our skincare needs can change daily, based on the weather, travel and even our nutritional habits. This is why our Sweet Chef Skincare line is formulated to be mixed, matched and layered depending on how your skin is feeling on any given day. Build a routine based on what your skin is craving, or try some of our favorite skin care recipes below.
For When Your Skin Is Dry:
Start with a few spritzes of the Ginger Kombucha Chill Mist, and pat into skin for optimal absorption. Follow up with the Beet + Kale serums. We recommend misting after each serum for extra hydration. Then, apply a scoop of Moisture Boost and massage it into skin to seal everything in. Bring your Chill Mist with you and spray every two hours to keep your skin dewy and hydrated. We love this routine because it's full of nourishing and hydrating ingredients. Don't forget to drink lots of water, too!
For When Your Need To Brighten Up:
After cleansing, apply the Ginger Fresh Pressed Sheet Mask, which is full of brightening ingredients to give you an instant glow. Next, spray with the Ginger Kombucha Chill Mist. Then, layer on our Ginger and Beet serums - you can mix them together or apply one at a time, it's up to you! The combination of Vitamin C and Vitamin A will fight dullness and help to even out your skin tone. Lastly, smooth on Moisture Boost, which has ginseng to help brighten and moisturize. 
For When You Pore Are Out Of Control:
Begin to fight large pores by using a great cleanser, preferably one with AHAs to gently exfoliate the surface as it cleans. Next, apply the Beet sheet mask to clean skin and leave on for 10-15 minutes while you chill. Take the mask off and pat the remaining product into skin. Next, apply our Beet serum and pat gently into skin until fully absorbed, followed by a spritz of Chill Mist to prep skin for moisturizer. Massage in a dollop of Moisture Boost, which is full of smoothing and nourishing ingredients.
We hope you love these new additions to our Sweet Chef skincare line and that you enjoy building your own signature skincare recipes!